This quick and easy rainbow bark is a colorful no bake rainbow chocolate bark treat.
Made with melted white chocolate that is topped with rainbow sprinkles and Airhead rainbow bites, it's perfect for a rainbow party, St. Patrick's Day, and more.
This dessert is as pretty as it tastes!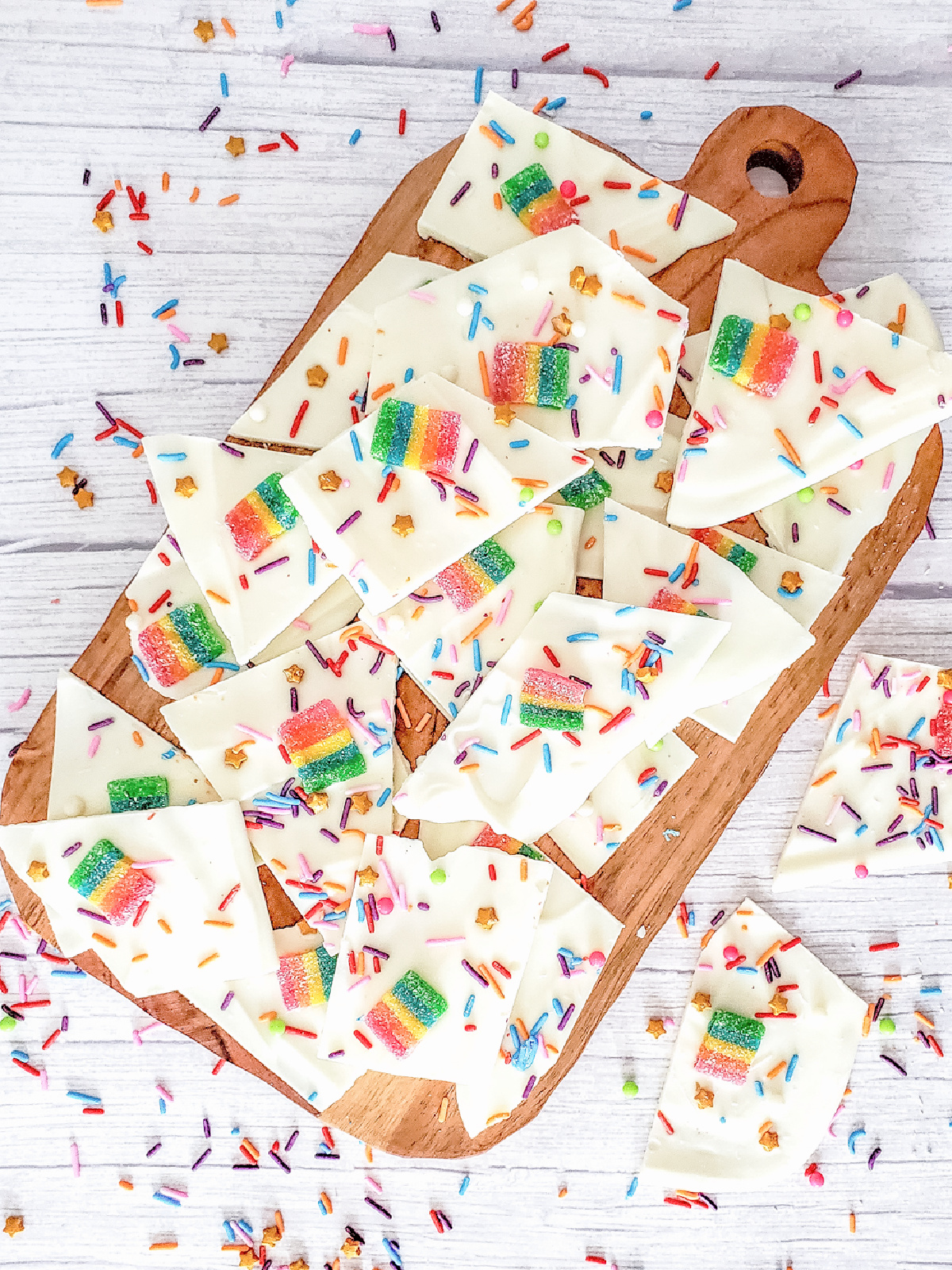 Chocolate bark is one dessert you can make for almost any occasion. From different layers of chocolate, candy toppings, to a variety of colors to bring out a colorful melt in your mouth treat for kids and adults.
Try these peanut butter chocolate bark or pecan turtle bark flavors for another twist.
We Love Rainbow Bark Because…
It's versatile and can be made with white candy melts or chocolate chips 
Easy to throw together for a fun treat in minutes
Colorful and bright
No bake dessert idea that is sweet tooth approved.
Basic ingredient list so you might have all the ingredients in your pantry.
Thin layer of bark that melts in your mouth.
Ingredients Needed
I love that this easy rainbow dessert offers different colors of the rainbow in each bite.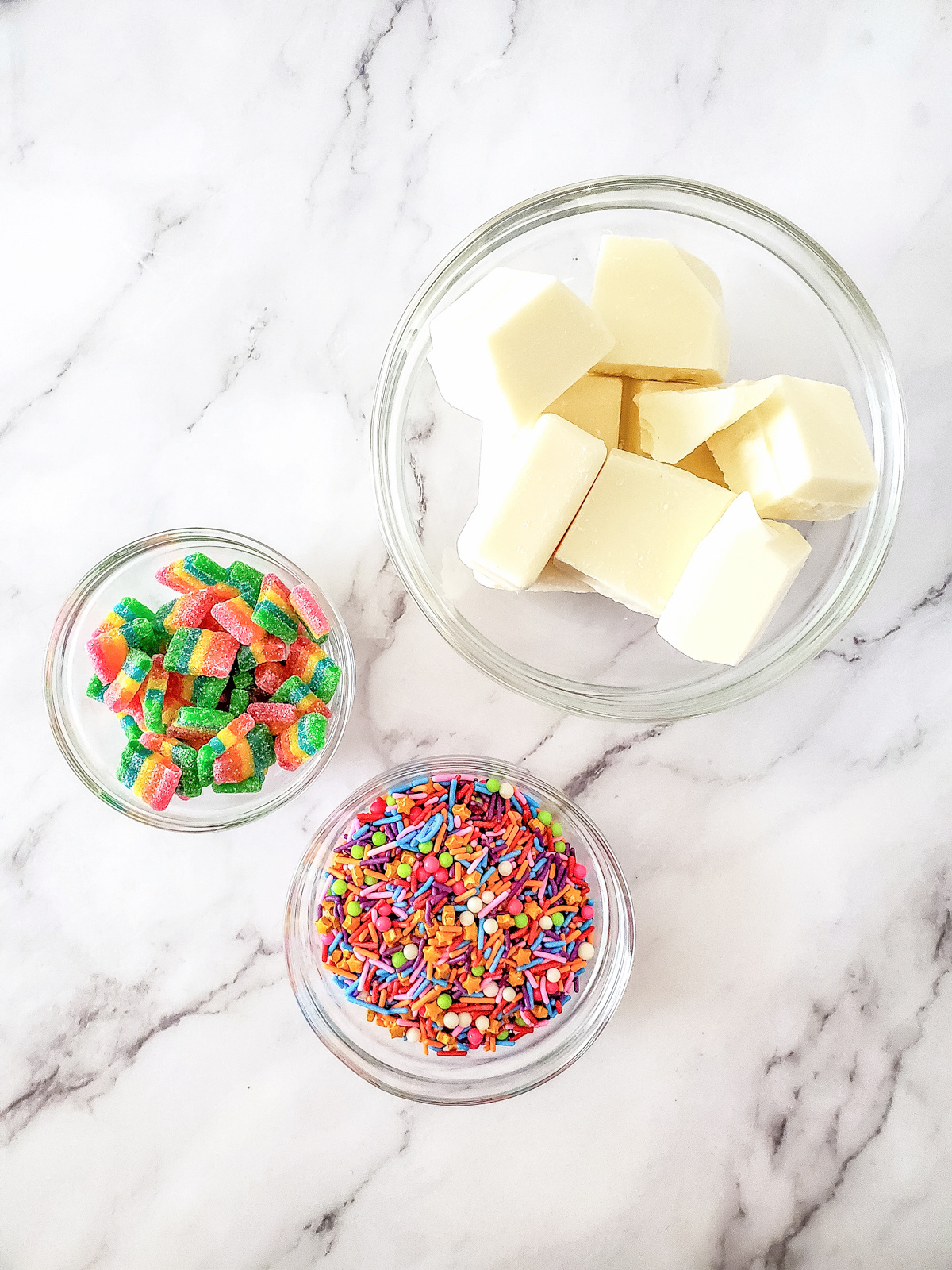 Here's what you need:
Chocolate – White chocolate chips, candy melts, or almond bark.
Sprinkles – Use rainbow sprinkles to fit the colorful theme.
Rainbow Candy – I used Airhead Extreme rainbow strips. These are a colorful and chewy candy.
Try these rainbow fruity pebble bars for another colorful dessert idea. 
How to Make Rainbow Bark
Full steps and directions are featured below. This is a quick walk through on how it is made.
Prepare a baking sheet by lining it with parchment paper and setting it aside.
Next, melt the chocolate in a microwave-safe bowl by heating it for 30-second intervals and stirring the chocolate between each session in the microwave.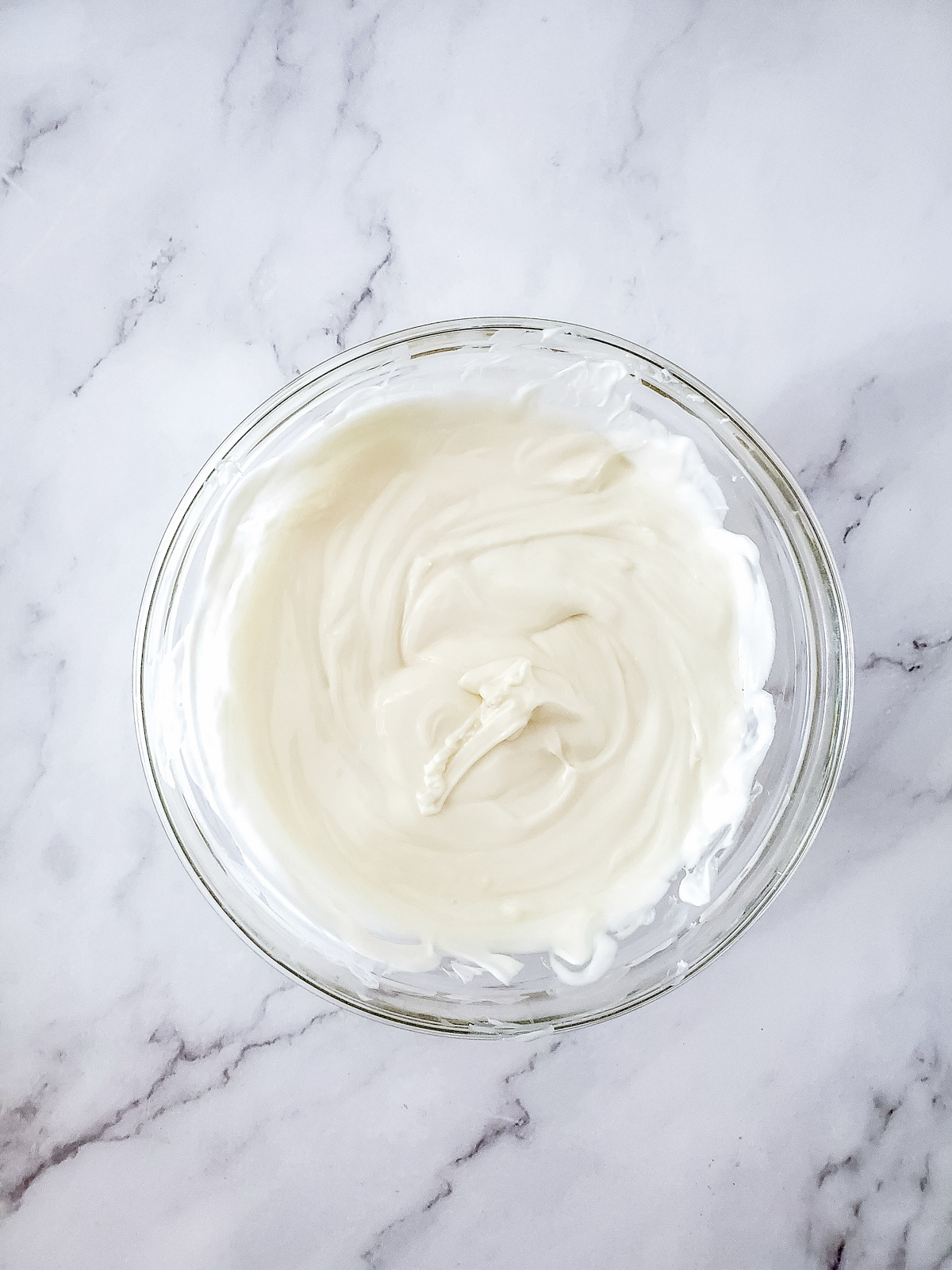 Once the chocolate is melted, spread it onto the parchment paper, being careful not to spread it too thin to avoid brittle areas.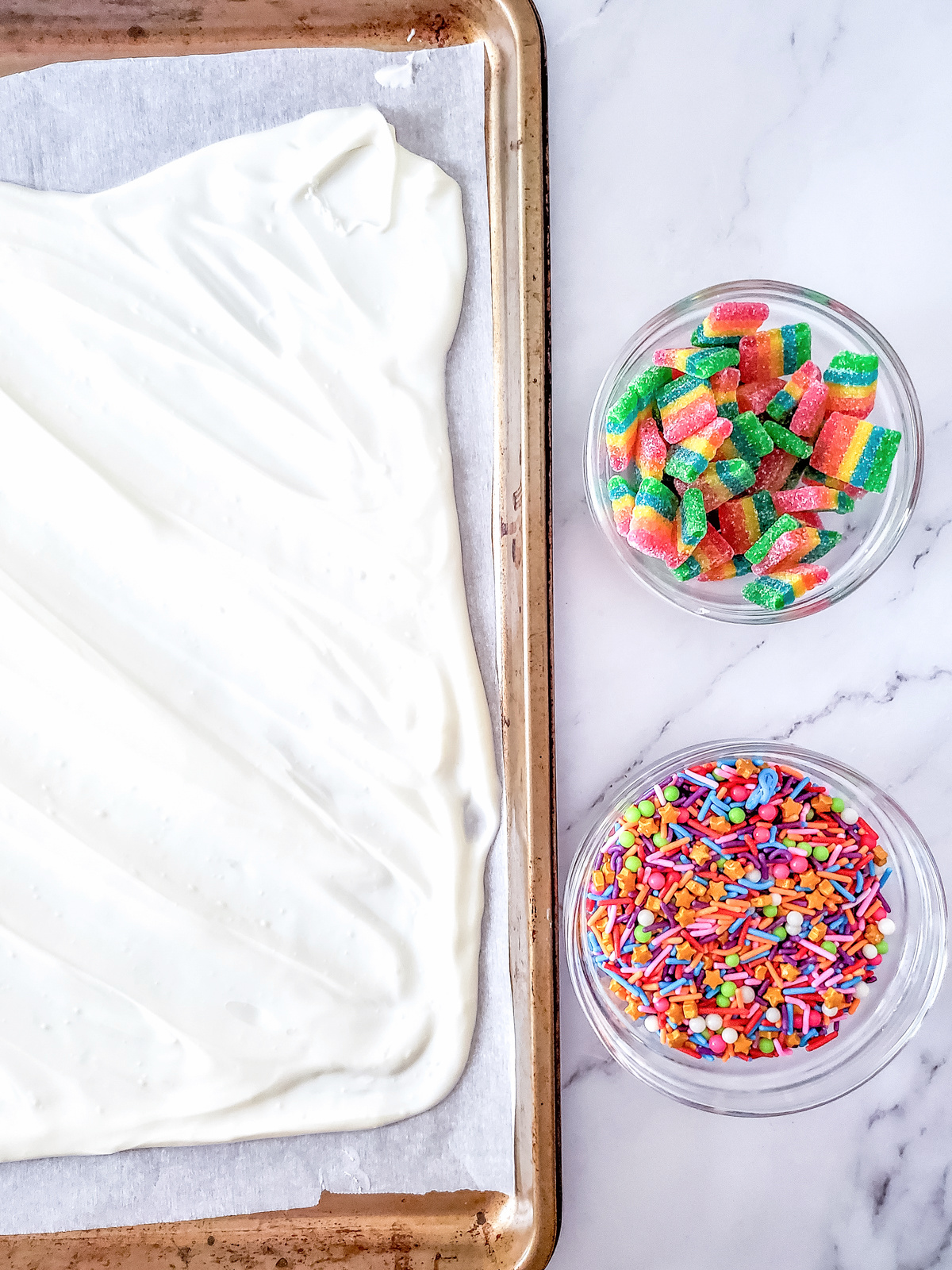 Sprinkle the Airhead Extreme bites onto the top of the chocolate and scatter the colorful sprinkles over it. 
Allow the chocolate to set for approximately 20-30 minutes.
You can then cut the bark into pieces using a sharp knife or break them up with your hands, ensuring that each piece has Airhead bites.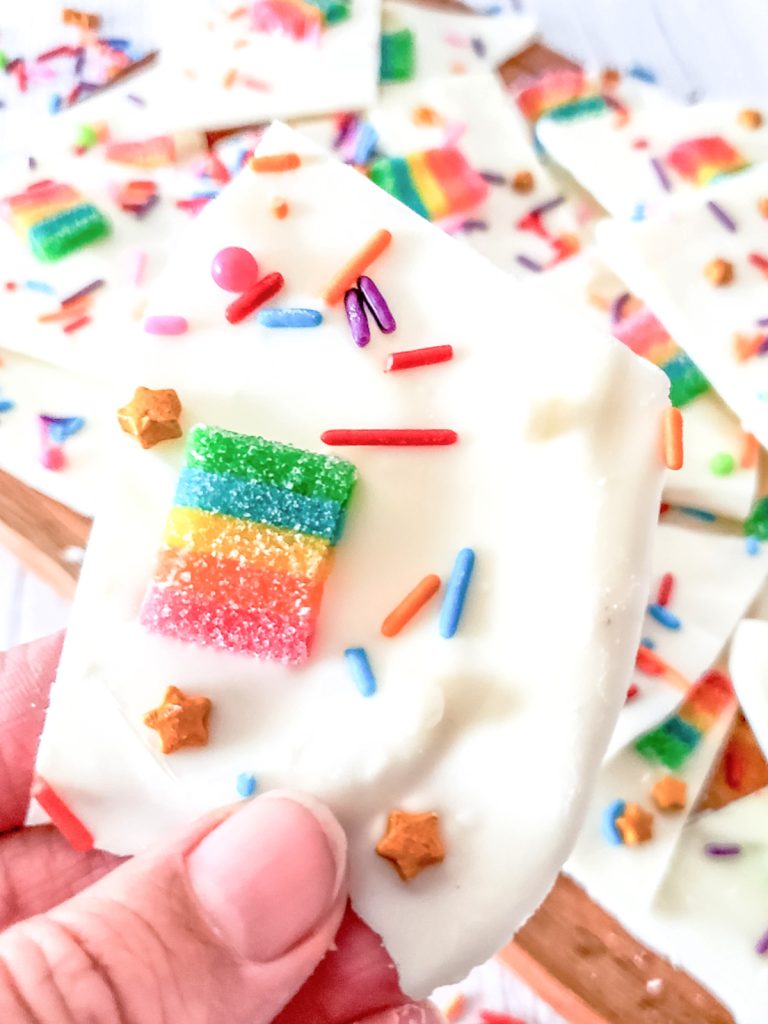 Variations
We love chocolate bark! Try these fun ideas and have fun with it!
Chocolate: Use milk chocolate, dark chocolate, or colored candy melts. Feel free to change up the type of chocolate used. If you are vegan or need dairy free then go right ahead and use the type of chocolate that fits your needs. 
Rainbow Treats – Use any style of rainbow colored candies to decorate your chocolate bark. The goal is to make it a colorful treat.
More Toppings: You can use any type of candies or cookies. Feel free to reach for bright colorful items to create a fun look. 
St. Patty's Day – Create a pot of gold style dessert. You can make the rainbow treat and add in some gold sprinkles to create a fun pot of gold look.
Salty and Sweet – Add on some crushed pretzels or even rainbow Goldfish crackers for a salty twist of flavor paired with the sweet. 
Tips for Success
Baking tray: Make sure to use a prepared baking tray. Line with parchment paper or use a silicone baking mat to create a non-stick surface.
Use high-quality chocolate: Good quality melting chocolate will have a better flavor and texture, and it will melt more evenly.
Chill the chocolate: Once you have spread the melted chocolate on the parchment paper and added the candies, place it in the fridge or freezer to set quickly. This will also help the toppings stick to the chocolate.
Break the bark into irregular pieces: Don't worry about making the pieces perfect. The charm of chocolate bark is its rough, rustic appearance, so embrace the natural, jagged shapes that come with breaking it by hand.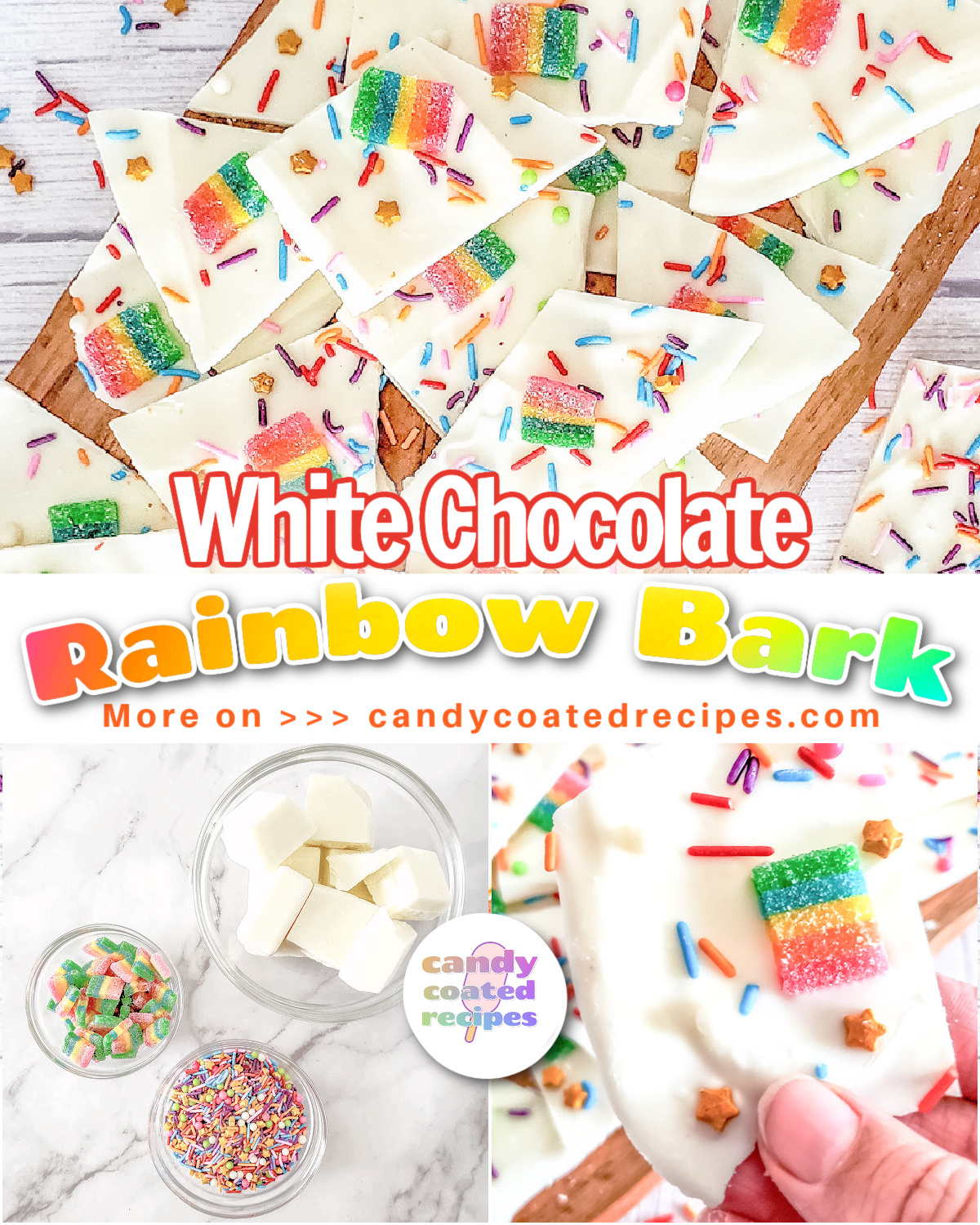 Storing Tips
Store your chocolate bark at room temperature in an airtight container or sealed bag. You can store the chocolate for up to two weeks give or take.
You can also freeze in a freezer bag or freezer container for up to 3-4 months. Thaw on the counter at room temperature for an hour or so before serving.
What is chocolate bark?
Chocolate bark is a type of candy made by melting chocolate and then spreading it out in a thin layer on a baking sheet or parchment paper. Once the chocolate has cooled and hardened, it is broken into irregular pieces and often topped with nuts, dried fruit, candy, or other toppings.
How do I melt chocolate for chocolate bark?
You can melt chocolate in a double boiler or in the microwave. To melt chocolate in the microwave, chop the chocolate into small pieces and place it in a microwave-safe bowl. Heat the chocolate in 30-second intervals, stirring between each session until the chocolate is melted and smooth.
Print the Recipe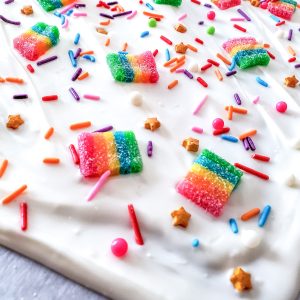 Airhead Rainbow Bark
Made with melted white chocolate that is topped with rainbow sprinkles and Airhead rainbow bites, this chocolate bark is perfect for a rainbow party, St. Patrick's Day, and more.
Ingredients
3

cups

white chocolate chips

or white almond bark

¼

cup

Airhead Extreme Bites candy

⅛

cup

Assorted colorful sprinkles
Instructions
Line a baking sheet with parchment paper. Set aside.

Melt chocolate in a microwave safe bowl for 30 second increments, stirring between each session in the microwave.

Spread the chocolate out onto the parchment paper. Be sure not to spread too thin or the chocolate will be brittle in those areas.

Sprinkle the airhead extreme bites around the top of the chocolate. Then, scatter out the colorful sprinkles.

Allow the chocolate to set – about 20 -30 minutes. You can either use a sharp knife to cut the bark into pieces, or snap them with your hands to break them up. I like to make sure there are airhead bites in each piece.
Notes
Store in an airtight container at room temperature for up to one week.
Nutrition
Serving:
1
serving
Calories:
180
kcal
Carbohydrates:
22
g
Protein:
2
g
Fat:
10
g
Saturated Fat:
6
g
Polyunsaturated Fat:
0.3
g
Monounsaturated Fat:
3
g
Trans Fat:
0.004
g
Cholesterol:
6
mg
Sodium:
27
mg
Potassium:
86
mg
Fiber:
0.1
g
Sugar:
21
g
Vitamin A:
9
IU
Vitamin C:
2
mg
Calcium:
60
mg
Iron:
0.1
mg