Working with chocolate to create delicious treats is not only fun, but creative. To enjoy the process, make sure you have the best tools for working with melting chocolate so you can achieve seamless dipping, molding and decorating.
Here, you'll find the most popular items needed for dipping chocolate like a pro.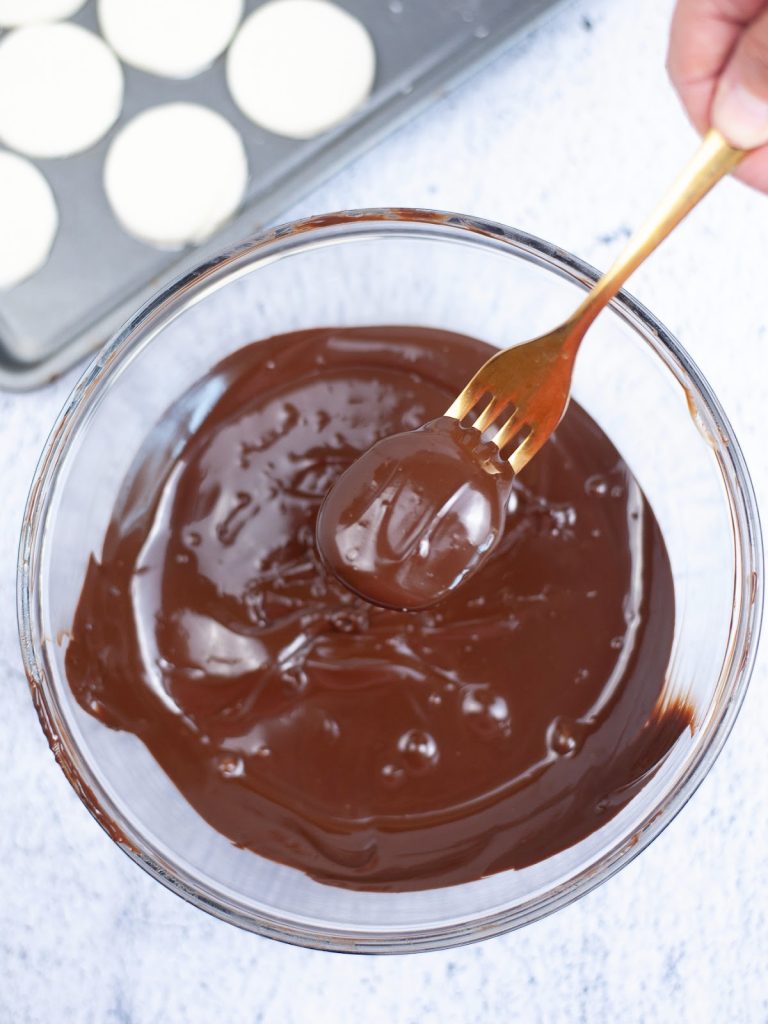 From chocolate melters to wafers and from food coloring to decorating tools, you'll find an assortment of ideas to help you make unique chocolate confections like rainbow bark or white chocolate letters.
You'll love these easy ways to make these crowd-pleasing treats with a few essential accessories that are perfect for working with chocolate.
The Best Tools for Working with Melted Chocolate
Working with chocolate to create delicious treats is not only fun, but creative.
To enjoy the process, make sure you have all the tools you need for seamless melting, molding and decorating.
Melting Pot
This highly rated melting pot is the perfect tool for melting chocolate with ease. It's a small electric appliance that easily melts chocolate in as little as 10 minutes, keeping it at the right temperature for any dipping, pouring, decorating or creative recipe you may have.
Its inner silicone pot makes it easy to clean, too. Try it with your favorite melting chocolate and get started right away!
Flower Shape Chocolate Candy Molds Set
This set of 4 silicone candy molds gives you a beautiful array of options to create flower-shaped chocolates that will delight your friends and family. You can use them to mold chocolate, but they can also be used for cake batter, breads, butter, and even home-made soap. Easy to use and clean, you'll appreciate the variety of options with this set.
Dipping Tool Set
Take the frustration out of dipping strawberries, pretzels or nuts with this set of tools designed to handle small items. You get 5 tools: a 3-prong dipping fork, a cradling spoon, a spear, a slotted spoon and a drizzling spoon to hold the items safely intact while you dip and decorate. Make sure you have this set so you can create with precision!
Chocolate Melting Wafers
For quality taste, try Ghirardelli's melting wafers in this set of dark and white chocolate, so you can experience each. Perfect for chocolate covered strawberries, you'll love the texture and flavor of these easy to use wafers. Smooth and creamy, you can't go wrong with these exceptional melting wafers.
Food Coloring
Make sure you're using oil-based food colors designed to work with chocolate. This set of 10 colors is made with food-safe ingredients and will render vibrant color to your creations. The liquid gel texture is easy to use and will also work with icings, hard candy and fudge.
Dipping Aid
Just a dash of these Ez-Thin flakes in your melted chocolate will help it reach the smooth consistency needed for dipping and covering your creations. If you've over-processed your chocolate, this oil-based product will help it recover and perform as intended.
Chocolate Bomb Mold
Chocolate bombs are those magical orbs of flavored goodness that you can drop in a cup of hot cocoa or warm milk for a sweet treat that melts right before your eyes. You'll need these chocolate molds to help create these delicious confections. Made from silicone, these molds are easy to use as well as clean.
Bright White Candy Melts
Flavored with vanilla, these bright white candy melts are the candy coating that you want to use to help create those designer drizzles and designs on dark chocolate or any other color of chocolate. Additionally, these bright white candy coating melts are a must-have for adding oil-based coloring to create custom colors.
Silicone Spatula Set
You'll need something to stir all that glossy melted chocolate with and a silicone spatula is the perfect tool. This set comes with 9 different tools, spatulas and spoons in various shapes and sizes. This is an indispensable set when you're working with chocolate.
Paper Sticks
You'll want to keep a package of these white paper sticks on hand for all those cake pops and lollies you'll be making! This set of 200 sticks measures 6 inches and is made from high quality paper. The sticks are substantial enough to hold the weight of candy and cake pops, ensuring a sturdy base for your creations.
Cake Pop Stand
Make sure you don't ruin your freshly dipped chocolate items by using this handy holder that fits perfectly with any cake or lollipop stick. This set of 2 stands is made from acrylic. Each stand has 15 holes so this pack of 2 will hold up to 30 cake pops or lollipops. It's an indispensable accessory to have in your candy making tool kit!
Holiday Molds
You can't go wrong with this set of Christmas molds that give you a wide variety of shapes and icons that are perfect for candy making for the holiday season. Chocolate forms beautifully in these silicone molds, as well as cakes, puddings and even soaps!
Offset Spatula
An offset spatula is a great tool to use to tidy up your chocolate molds after they've been filled. With just a swipe of the spatula, use it as a gentle scraper to level off the chocolate within the molds as well as clean up any drips.
Decorating Funnel
Keep it neat and precise with this funnel that's perfect for expelling chocolate, caramel, and more on to your intended target. Its push button control makes it easy to fill molds or deliver the candy onto a surface.
Drizzle Bottle
Drizzle on delicate lines of extra chocolate coating, caramel, icing, or sauce with this bottle fitted with a cap especially for chocolate bombs, cake pops, covered strawberries and pretzel rods. The 4-hole design gives the perfect delicate look to cover small areas, adding a professional flair to your confections.
Chocolate Pouch
Perfect for topping chocolate candy with, this microwavable confectionery chocolate coating comes in its own squeeze pouch for ease of use. Just heat, knead the pouch, and apply it. Top it with sprinkles for a fun, layered and creative look. Comes in an assortment of colors.
Chocolate Bar Molds
These break-apart rectangular molds will give your chocolate creations an easy way to firm up and be separated when ready to decorate, package, or enjoy. Just make your batch of chocolate, let it firm up and easily pop them out of these silicone molds. What could be easier?
Silicone Pouring Cup
Easily melt your chocolate wafers in the microwave using these silicone cups that come with a pouring spout and cap. These cups allow you to melt chocolate and pour it directly into molds without making a mess. They're dishwasher safe, so cleanup is a breeze.
Sprinkles
Add a little bling to your chocolate creations with these sparkly edible sprinkles with a rose gold metallic look. This fun medley of shapes and sizes includes sugar beads, rods, stars, nonpareils, and jimmies.
Double Boiler
You can't go wrong with this classic double boiler made of stainless steel. Melt chocolate, cheese, caramel, butter, and more with ease. Just add water to the lower part while your ingredient melts in the upper chamber. Comes with a tempered glass lid.
Decorating Bottle
Add your melted candy wafers to this bottle and easily decorate your candy with the included tips. The bottle and tip are specifically designed to accommodate the melted chocolate candy coating. Comes with a writing tip and large covering tip.
Whether you dip cake pops or create delicious hot chocolate bombs or decorative toppings, your job will be much easier with the right tools!